GM Trivia is back for another round!
Now that we all have our Emoji-sets, the prizes this time will be 2 x Golden Eggs!
Each individual may only win once. (So even if a player owns several characters then they may only win one time).
Questions will be Perfect World themed and will be asked via the Broadcast system at random times throughout the day and evening.
First person to answer correctly will win a Prize.
You must submit your answer in the world-shout channel.
Prizes will be traded to you ingame.
Happy Quizzing!
Please note that Jewelcraftsman Yi in West Archosaur has some custom options for trading in Golden Eggs.
This function is located on the bottom row of the 'Orbs' section.
This function works as a lottery system, as follows:
Trading in 1 Golden Egg to the NPC gives you:
70% chance to receive 1x 1* Orb.
10% chance to receive 1x 2* Orb.
10% chance to receive 1x 3* Orb.
10% chance to receive 1x Mirage Celestone.
Players may use this function if they wish or just open the Eggs themselves.
Here is a link to the PW-Database loot table of the Golden Egg:
http://www.pwdatabase.com/pwi/quest/9135
CAUTION:
The third row of the Jewelcraftsman's 'Orb' section is also a Lottery function.
Each orb recipe on this row functions as follows:
20% chance to receive the Orb listed.
80% chance to receive 1x 1*Orb.
We do not recommend that players use this function. A picture of said row is attached: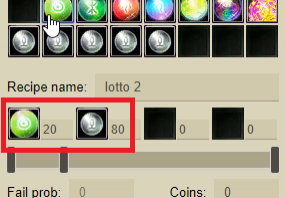 Eggs and their contents cannot be replaced or refunded. So please consider your choices carefully.